Finland, one of the constant top countries in global rankings of innovation, education and happiness, is inviting you to join the party: to co-create the future – your own future as well as the future of our shared planet.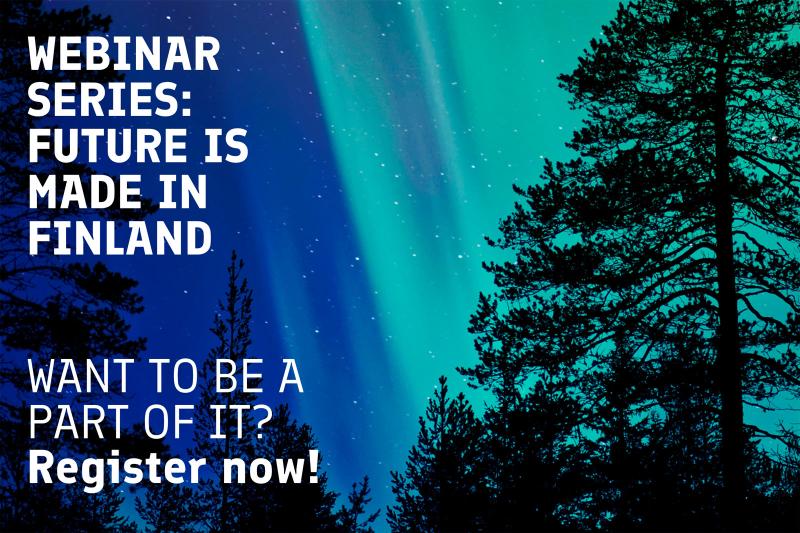 Join us in exploring the future in seven amazing episodes illuminating the ways how the globe is changing and challenged, and how science in one of the world's leading innovation ecosystems in Finland is taking us through the challenges – to the future.
To a better, safer and more sustainable future. Your future.
The webinar series consists of an opening episode Future is made in Finland – Want to Be a Part of It? presenting the study, research and work opportunities Finland has on offer, followed by six separate episodes highlighting Finnish cutting-edge excellence and opportunities in:
Circular economy

Imaging and photonics

6G & mobile technologies

Artificial intelligence

Design-thinking

Perspectives of women in science and technology
Episode I:

Future is Made in Finland – Want to be a Part of It?
14th of October 12.00 in Helsinki (UTC +3) / 14:30 in New Delhi (UTC +5:30) / 17:00 in Singapore (UTC +8)
Moderated by Mr. Tomi Korhonen, Executive Director of Communications, Business Finland
Program of Episode I
How to Find Global Solutions to Global Challenges in Finland?
12.00 EET / 14:30 IST / 17:00 SST
Finland - Made with Education
Ms. Li Andersson, Minister of Education of Finland
Future is Made in Finland
Mr. Pekka Sivonen, Executive Director, Digital Transformation of Finnish Industries
Mud-pies, make-believe and machine learning
Ms. Linda Liukas, Programmer, storyteller and illustrator, Founder of Rails Girls
Interested to Study & Research in Finland?
12.40 EET / 15:10 IST / 17:40 SST
Breaking the Ice with State-of-the-Art Science from Finland
Ms. Anita Lehikoinen, Permanent Secretary, Ministry of Education and Culture
Virtual Tour to the Participating Universities
LUT University, Aalto University, Tampere University, University of Oulu
ABC to Study & Research in Finland
EURAXESS – Your Gateway to Research in Europe
Ms. Susanne Renzow-Vasu, EURAXESS Singapore   
ICMPD - Check-List for Students planning to Study within the EU – a free Resource Tool
Mr. Naozad Hodiwala, ICMPD
How about Establishing a Start-up in Finland?
13.15 EET / 15:40 IST / 18:10 SST
Born and raised in HEL: The Story of SLUSH, the World's Leading Start-up Event and Community
Rasmus Halme, Chief Operating Officer, SLUSH
Facts about Innovation & Start-up Funding in Finland
How to get to Finland?
And the saga continues: Further Episodes
26 October at 12.00 EET / 15:30 IST / 18:00 SST
Episode II: Bioeconomy Defines the Future / facilitated by the LUT University
28 October at 12.00 EET / 15:30 IST / 18:00 SST


Episode III: Join the Revolution of Light and Image / facilitated by the Tampere University
3 November at 12.00 EET / 15:30 IST / 18:00 SST


Episode IV: First in 6G / facilitated by the University of Oulu
 

11 November at 12.00 EET / 15:30 IST / 18:00 SST


Episode V: Get REAL, AI! / facilitated by the Finnish Center for Artificial Intelligence, FCAI
 

17 November at 12.00 EET / 15:30 IST / 18:00 SST


Episode VI: Future is Made in Finland – Design it yourself! / Aalto University
9 December at 13:00 EET / 16:30 IST / 19:00 SST
Episode VII: Future is Female – Discussions with Women in Science & Tech

More information and registration
See campaign site at www.studyinfinland.fi/future-is-made-in-finland
 
Participating universities / institutions

More information is coming soon, stay tuned!