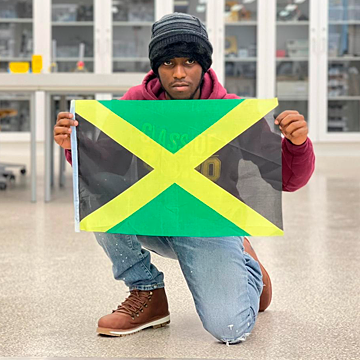 "The people and the environment are just the best"
Daniel, why did you choose to study in Finland?
Back home I have been studying science. I did physics, mathematics and chemistry, developing the passion for engineering. I was already fascinated with machines - writing various programs to tell machines what to do and seeing them come to life. I did my research and saw that Finland has the best education system. HAMK stood out because I saw how practical it is in a YouTube video that they created, and I like to see my knowledge in practice. That's what given me the inspiration to come to HAMK. I like the idea of how the university is structured and I like the degree course and I'm now taking.
How would you describe your studies?
There's a lot of equipment and laboratory work area here. Teachers are so supportive, you can ask them the same question a hundred times, they will still give you the support you need, and never see them getting tired of answering your questions. They're always there to put you in a position so that you can understand if you don't understand. They give you hints, but they don't give you the direct answer because they want you to figure it out. They only guide you to get to the solution. They would say things like "maybe you can tweak this or change it a little here".
As for the students, they're helpful. If you have a problem and you ask them a question, they will help you.
As for the courses, you get both theory and practice. The other day for example, I did a program that had to control a conveyor belt. I had to design a program from scratch so it would cause it to go to the left and right. It had two sensors so I can configure the program that when it detects an object, it will send a text message to my phone. I also configured the program where I can start the conveyor from my phone. I can also get a text message when a button is pressed. Another is that we don't have exams every week or every day, it's once per month. You learn the content and then the exams come one month later. So overall, it's very practical.
What is your favorite part about studying in Finland?
Waking up every day and having to see the environment with so many persons from different countries.
How would you describe living here?
It's just very good. You get value for your money when you go shopping. So, you get a lot of stuff for less. They also have a lot of stores with big deals. It's really affordable. Like for transportation you can get a bus card for one month and get unlimited travel within the city. Also, where I live is very close to supermarkets, bank, clothing store so I can just walk and have no problems living.
What makes Finland unique?
The environment and how clean it is. The people have shown me nothing but love. I've never experienced racism from a local Finnish person. The people and the environment are just the best. It stands out to me the most.
What is your advice to potential international students?
Apply as early as possible. That helped me to guarantee my spot. I didn't delay anything. Do it as soon as you get info.
As for living or studying in Finland, pack lots of warm clothes and be prepared for cold weather in the winter season. Just have an open mindset. Don't keep your mind in a box. Don't come with any preconceived ideas about Finland. Just be ready for what will come your way. Have a positive mindset that it's not going be a bad experience. Get ready to experience the best education system in the world!
> Get to know HAMK
> Back to Meet the Students