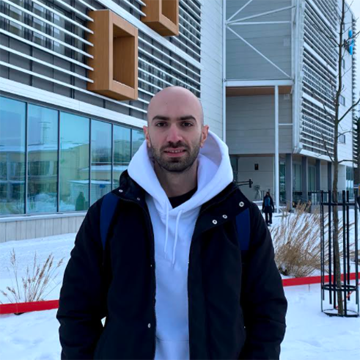 "It's beautiful that we can get together and speak the same language, share the same activities and study together"
Why did you choose to study in Finland?
I have always wanted to experience living in one of the northern countries. I was choosing between Italy or Finland for my studies and I chose Finland because it's a Nordic country and I wanted to try living here or to see how the lifestyle is.
How would you describe your studies here?
The education system is completely different and really good. The teachers help you when you are struggling for example when doing assignments. My classmates are very international. Some of them come from Finland and many come from different countries. They are very different from each other. We have different backgrounds, culture and even ages. The youngest is 19 years old and the oldest is 40. But it's beautiful that we can get together and speak the same language, share the same activities and study together. They are very warm and welcoming. It's so far been a great experience and I am happy to study here.
What made you decide to stop your studies in Iran, come to Finland and pursue another degree?
I have studied civil engineering for four years back in my home country and I decided to stop it because I couldn't really study it as I wasn't interested in most of the courses there. I have also started working for a company for a couple of years there, but I realized that it wasn't my thing. It wasn't what I want to do for the rest of my life. So, I decided to come to Finland to study something new, something I'm really interested in. Finally, I did it and I'm happy about my decision. I like the school and everything about Finland.
What are your future plans?
I plan to start my practical training in April in Lapland. I want to have experience in marketing. I want to first try and see what I am most interested in and then apply for jobs related to it in Finland after finishing my studies and thesis.
What is something unique about Finland?
The education system and the nature. I believe that no other country has the same kind of education system. I feel completely comfortable and relaxed when studying. The educational environment creates a smooth atmosphere for students to study and live in. And about the nature, walking/hiking by the nature for example is one of the most popular hobbies in Finland. All in all, Finland have beautiful nature and culture and it's a great choice for international students to come for studying and living.
What advice would you give to potential international students?
Moving to another country might be challenging for some people but I think it's worth it to come to Finland because of many things – the education system, the culture, the people. I think everything is good here.
The students can also work while studying. There are many jobs that universities offer and if they're not paid, it is good for experience. If the students need money or want to experience working in Finland, they can also work while studying. There are a variety of jobs that they can try. I haven't worked but I have many friends here that work while studying.
Also, it's good to know that Finland offers many degree programs in English and in everyday life, you can also cope without knowing the Finnish language.
> Get to know SAMK
> Back to Meet the Students