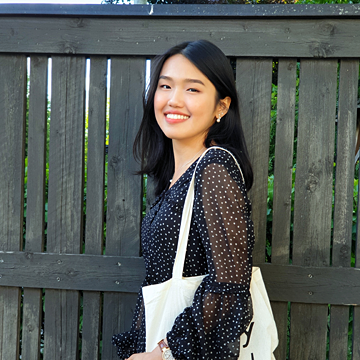 "Develop your knowledge and skills in your own way"
Why did you choose to study in Finland?
Before coming to Finland, I was studying international business in Vietnam. I only had my thesis left to complete, but I decided not to because I felt tired and uninterested in my studies. I started to look for another program and since I come from Asia which is a tropical country, I got curious and interested in coming to Finland and experience the completely opposite environment and education system. So far, I have been happy with my decision. I wanted to study science and chemistry. Centria UAS offered the program I wanted, so I applied for it.
How would you describe your studies?
In UAS, program tends to be more practical. It focuses on training you to be able to work in the industry. In University, it is more academic. It gives you solid foundation to be able to conduct research. They challenge you to develop new methods rather than to learn how to use or operate an available system. Overall, all the lecturers I have met are very nice and professional. They are always there by my side to support me every time I need.
There's also plenty of academic events where students can attend for free. Centria UAS, for example, is close to industrial parks where many big companies meet to show recently developed researches, methods, applications and materials in the industries. At the University of Turku for example, there have had couple of events that students can attend to hear PhD students or experts presenting their research.
There is also a student union and Booster Turku which are two big organizers in Turku that create many events for students to get contacts or job opportunities from companies.
What is your favorite part about studying in Finland?
It's the freedom of learning and studying. From my experiences, professors always give you enough space that you can self-study, develop your knowledge and skills in your own way. They don't give you a very straightforward method and you are not pushed or asked to do something in a certain way that they want. They do provide some suggestions and key words to start with when you are stuck. Finnish working life and culture is chilled and relaxed. It is not very stressful so that you can efficiently do your work at ease.
How is working in Finland?
I've started my job as a full-time master's thesis worker at a company in Turku that offers materials research and analytical services. I used to be a trainee and thesis worker at R&D Chemistry and Circular economy at Centria UAS for long time. After graduating with bachelor's degree and before continuing with master's studies, I was hired as a R&D developer there for few months. I think I am very lucky to have had jobs related to my studies. I've gained a lot of knowledge and hand-on experiences in different fields of chemistry.
What are your future plans?
I want to continue to live in Finland for the next couple of years. I enjoy working here. I have worked in both basic and professional types of work. So far, the working cultures fit my style well. Finland is emerging to be one of leaders in scientific fields. I think it's an advantage to develop my career here. I want to get involved in many different projects, work with experts in my field, and learn from experiences.
What are your free time activities?
There are many seasonal activities that I have experienced and highly recommend. During the winter you can go to sauna, ice swimming, ice skating, and sledding. During summer, you can have long distance cycling, go trekking, go camping, planting and go sailing. There're plenty of places where you can do them all for free. You can also look for some volunteer work. I used to be a volunteer at a Finnish organic farm. I lived in a farm for a month which was a wonderful time and Is still get in touch with the owners.
What is your advice for potential international students?
For prospective students who would like to spend your life in wonderful Finland, you need to be prepared to get out of your comfort zone and be open-minded to new things. I highly recommend you to take part in as many activities as possible. By that way you can get to understand Finnish culture, make new friends, broaden your social networks, and gain a lot of valuable experiences.
Finland is well-known for the best education system in the world, but it doesn't mean that its system fits well to everyone. There might be some differences between the Finnish ways of teaching and your familiar way of teaching in your country. Opening the mind and asking for support will help you overcome the obstacles, adapt to new teaching methods and develop your skills.
> Get to know Centria UAS
> Get to know University of Turku
> Back to Meet the Students