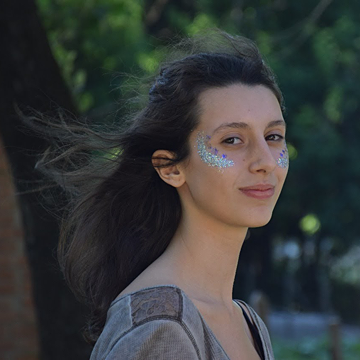 "I wanted some place that was unique"
Why did you choose to study in Finland?
I wanted some place that was unique. I was just looking through my options and it was honestly because of Aalto University. Aalto just called to me. It seemed really friendly and welcoming. Its ideals just aligned with my own so well that it completely convinced me. I'd actually never heard of Finland before. But I just told myself "this is okay, this is great, I can just discover this country and go there with no stereotype, no anything. I'll just explore for what it is."
How would you describe your studies in Finland?
I belong to the first batch of the bachelor's program I'm taking and to me, that makes my studies even more special. I feel like I get to contribute to how the program is developing. My studies involve working closely with the lecturers and the program director. Even though the learning methods are very experimental, they're very aware of how our process is as students and we get to give feedback. I particularly love that and I love seeing it grow.
As for the courses, they are mostly project based. In our first course, Introductory Design Project, for example, we were tasked to build a 3D printer ourselves with 3D printed parts that we're going to be modelling ourselves. And it's amazing how everyone in the class is so into it and helping each other out to get everything working.
We have also already worked with different organizations. I've worked in developing a digital service for people who have experienced digital abuse and helping undocumented migrants reach essential services like healthcare or crime reporting. It's just great that we are given this trust to explore these very serious topics already by now.
As for my classmates, the majority of my classmates are international. We have eight who are Finnish but they're very international too. They've studied abroad and have connections to the international community. My class is just very open and different. Everyone has their own experiences and interests. I'm constantly being surprised by them and how they take completely different approaches to the same assignment or brief.
What is your favorite part about studying in Finland?
That it feels so hopeful and limitless. I'm just constantly being pushed towards this future thinking which I didn't have before. It feels really nice to go crazy with ideas. So, for example, the Workshop Masters, you go to them and tell them your crazy ideas and they're just like "sure let's go, let's gather the materials, let's gather the people – let's do it!".
How is working in Finland?
I had quite a bit of a struggle when I was still a housekeeper in a hotel before corona hit. I was working 20 hours a week with my studies that are 40 hours a week. It was a lot of time and effort. But at the end of the day, you need to be able to pay your bills. I still managed to keep a balance between work and studies quite well. Now, I work in fundraising. It's 10 hours a week so it's easier to schedule.
I am also part of Aalto Squad which is about marketing. It's nice to talk to potential applicants for Aalto because it makes me remember the time when I was fresh from high school, wanting to apply, so hopeful, and feeling that everything is new and full of opportunities. In Aalto Squad, I also get to work with students from other areas, be it bachelors or masters. It's great and it makes me really happy.
I also tutor a four-year-old girl in Spanish for two hours a week. It's great for me to have that space where I can also practice my Spanish and interact with a kid. I have already formed this really nice relationship with her and it's great to see how a Finnish home works.
What is your advice to potential international students?
To follow what you feel and be open to new experiences. When you are moving to a different country, you are going to have different stereotypes. Just throw them away and come with an open mind. Learn to depend on others too. When you come to study or work, there's different communities that are here to support you. If ever you run into trouble, then you always have someone you can go to. You are not alone. Try to depend on the community, it's here for you. There's going to be someone that's willing to help.
> Get to know Aalto University
> Back to Meet the Students